New Year's is a time of hope — hope that the year ahead will be a good one! But why leave it up to chance when we can help make it better ourselves?
With that in mind, we're kicking 2018 off in style by giving away FREE GAMES to our patrons!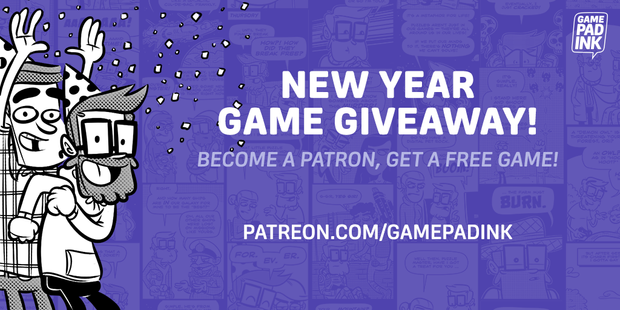 Here's how this is gonna go down:
Become a $1+ patron of Game Pad Ink on Patreon

. If you are one of the

first 100 people

to do so in 2018, you will receive a free game in addition to our normal Patreon rewards! If you are an existing patron, you are already eligible — you don't need to make any change!

You will receive your game once your first pledge in 2018 is processed (this happens at the beginning of the following month in which you sign up).

Games will be assigned at random from our massive grab bag. Some of the big names include titles like Day of the Tentacle, SOMA, South Park: The Stick of Truth, Brothers, The Long Dark, Invisible Inc., Resident Evil 5, Steamworld Heist, and more! 
Please note that practically all of these games are redeemable only on PC and/or Steam and that
our regular Patreon rewards
are unaffected by this giveaway.
If you're new to Game Pad Ink or Patreon, be sure to hit us up on
Twitter
with any questions you might have. And don't forget to vote every month to help pick what we play next!
And that's really it! May 2018 be good to you and yours and we look forward to seeing you around Patreon!